Sherlock Holmes: The Riddle of the Crown Jewels was the last of a bunch of Infocom adventure games I picked up before Christmas. This, like all my others, is for the Commodore 64 and is in pretty good condition. The box does show some signs of wear but nothing too bad, just some creasing and wear to the corners. Sadly, like Border Zone, it is missing a 'feelie'. Originally it would have shipped with a little plastic Sherlock Holmes key fob. It's a little disappointing for sure but I can live without it, it's the least important part of the package to me anyway.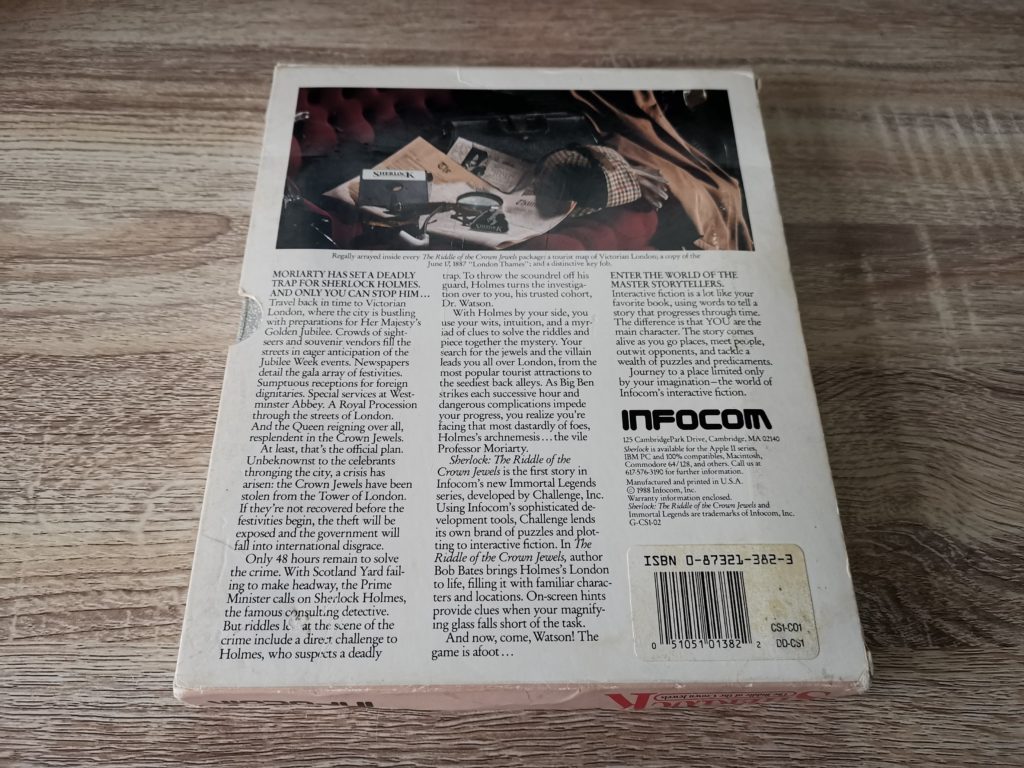 Contrary to what I had expected, you actually play the role of Doctor Watson rather than Sherlock Holmes. The Crown Jewels have been stolen from the Tower of London and you only have 48 hours to retrieve them. Holmes deduces that this is a deadly trap constructed for him personally and so gets you (Watson) to take his place to throw the perpetrator off guard.

Exploring Victorian London is the highlight of the game for me. Locations are richly described which really helped immerse me in the games world. Playing Watson instead of Holmes is very odd though and I'm not sure why the author decided to do this. Only time will tell if it ultimately proves detrimental to the game.
Invisiclues
Unfortunately I don't share Sherlock Holmes' legendary deductive abilities so I'm glad there's help available in this game. Just typing 'hint' brings up an 'Invisiclues' help screen. From here you can choose what you need help with from a menu. What's great about this system is it gently nudges you in the right direction rather than just blurting out the answer. It does this by offering three hints. The first is quite vague but enough to hopefully get you thinking along the correct lines. The the second is less vague and if you still can't figure it out the final hint is the actual answer. You can also turn this feature off if you think it will pose too great a temptation.
Sherlock Holmes Contents
As with all Infocom games there's quite of lot of stuff packed inside the slide out tray.
Sherlock Holmes is no exception here with lots of extra goodies tucked inside the box insert.
Inside there's the instruction manual, the game on a 5.25″ floppy disk, a tourist map of London and a copy of The Thames newspaper.
As I mentioned earlier there should also be a little key fob but unfortunately that was missing from the box. However all the important things are present and correct and the fob isn't required to actually play the game.
Once again this is another lovely addition to my Infocom collection and hopefully it won't be the last. There aren't many Infocom games floating around these days so it may be a while before another one crosses my path.
If you enjoyed looking at this page then here's a look at some of the other Infocom games in my collection that I've posted about.